"Insanity: doing the same thing over and over again and expecting different results."  Albert Einstein

Thankfully, this blog isn't for everybody … only those who want to get rich(er) quick(er) … I've proved that it can be done successfully, and I am conducting a 'grand experiment' at one of my other sites to prove that it's not just luck and that others can do it, too.
But, the vast majority are still in the 'work for 40 years and hope to have saved enough' mindset … and they have worries of their own, as this recent Gallup Poll showed: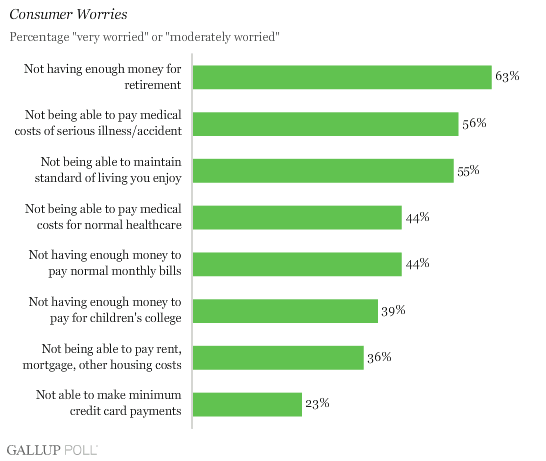 Of course, recent economic woes are probably 'skewing' this a little … but, think about it – most aren't retiring tomorrow, or even in the next 10 years, so markets will have plenty of time to boom and bust again for them.
No, the problem is more endemic: most people simply don't think that they will be able to retire happy or comfortably – and certainly not wealthy – despite the 'formidable' array of 'retirement weapons' at their disposal:
So, if the majority of people are using these tools and the majority of people believe that they won't work for them …
Whatup?!
Surely, at some level, these people know that these tools – as I have been hammering home in this blog for some months now – simply won't do the job?!
Let's take a look:
1. 401k's – High fees; low returns; lousy investment products on offer:
STRIKE 1 – I have never had a 401k and I have no idea what is even in any of my tax-advantaged / retirement accounts.
2. Social Security – An unfunded program; USA in the highest level of debt in history' what's the chances of Social Security being around in the same form when YOU retire?:
STRIKE 2 – When my social security statement arrives I chuck it in the trash without reading it, it's irrelevant, it won't be around when I retire, and I had this same line of thinking BEFORE I became rich.
3. Home Equity – Please! Where do you intend to live when you retire? By the time you buy and pay changeover costs etc. if you see any spare cash, it may be just about enough to pay off your remaining credit card debt:
STRIKE 3 – I live in my home equity, don't you?
4. Pension Plan – Do you work for Ford/GM/Chrylser? Any airline? Just about any bank?:
STRIKE 4 [AJC: 4 strikes???!!! I'm an Aussie, what do I know from baseball?] Ditto to the above, in fact, I have never subscribed to an employer-sponsored pension plan, even where I have had the choice.
… need I go on?
The point is, if you know these tools aren't going to work for you – as the majority of Americans surveyed by Gallup seem to – yet you keep using them – as the majority of Americans do – isn't that the very definition of 'insanity'?
Now, that's a question that I would love to see the Gallup Survey for!?